Since 1938
Jump to navigation
Jump to search
One of our members, Bruce KF7CFY, found a picture with a caption that was published in QST, January 1939. Thanks Bruce!
The Picture is of a "truck float" in an event called, "Wyoming on parade". The float has a banner over the top of the truck bed that says, "Casper Amateur Radio Club". On the side of the truck is a larger banner that says "Affiliated with the American Radio Relay League".
I've also found a book first published in 1941, "Wyoming, A guide to it's history, highways and people" that mentions on page 173 " Casper Annual Events: ... Wyoming-on-Parade, Aug. (third week.)"
We now have documentation of CARC and it's ARRL affiliation to August, 1938. Considering the effort it takes to get a float ready for a parade - it's very likley the club was in existance in 1937 - or earlier. As such - we've adopted 1937 as the founding year for CARC. At least until new evidence arrises.
If you're an ARRL member, you can go to the ARRL web site, once logged in - click on "QST Archive Search" in the Member's Only block near the top of the page. From there, you can search on "Casper, January 1939" and find the full page with the image on it. Page 73 of the Jan 1939 QST.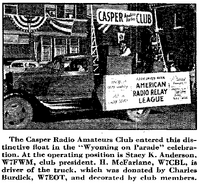 The image caption reads:
The Casper Radio Amateurs Club entered this distinctive 
float in the "Wyoming on Parade" celebration. At the 
operating position is Stacy K. Anderson, W7FWM, club 
president. H. McFarlane, W7CBL is driver of the truck, 
which was donated by Charles Burdick, W7EOT, and 
decorated by club members"

Interesting to note that the caption says "Casper Radio Amateurs Club". But the banner on the truck says, "Casper Amateur Radio Club" - the current name of the club.