Wyo Swap Shop
Jump to navigation
Jump to search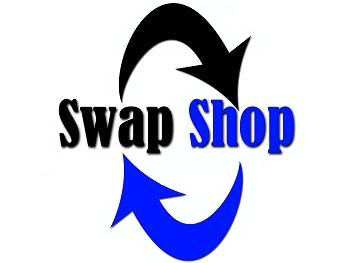 The Wyoming Swap Shop is operated by Casey, KD0JXU as a service to the Amateur Community.
Wyoming Swap Shop
Hams are invited to list their wanted or for sale items for sharing with the wider amateur community.
You do not need to subscribe to the reflector to have an item listed.
You must be subscribed to the reflector to receive the listings.
If you choose not to subscribe, you can still view the listings in the reflector archives.
Listings
Current and past SwapShop listings can be viewed on line in the list archives.
There is no charge to have your items listed or to subscribe to the reflector.
Item listings are accepted via email to:kd0jxu@arrl.net and an HF net.
Anyone wanting to add a listing to the WyoSwapShop should send that information direct to kd0jxu@arrl.net. Do not send listings to the reflector. It won't work.
Please provide valid contact info and a full description of what you have to sell or are looking to buy.
Emailings
Once a week or so - as time, work and life allow - Paul will send a message to the reflector with that week's listings as an MS Word "doc" attachment.
Anyone subscribed to the reflector will receive a copy of the listings, at the email address they subscribed.
No one, except Casey, KD0JXU, can send a message to the reflector.
See below for information on "doc" file viewers.
Buying and Selling
If you see something listed you'd like to buy - contact the seller direct and make your offer.
If you have something some one else is looking for and would like to sell it - contact them direct, they'll be glad to hear from you.
If you have a question about a listing - contact the person who made that listing.
No transaction communications will be handled via the reflector at any time.
Archives
Find the week's email you're interested in (I suggest clicking on 'date'), then click the URL for the attachment to view it's "doc" file.
Subscriptions, settings
List information, subscription/un-subscription tools, list archives and password recovery assistance can be found Here.
The reflector's subscription list is not public and will not be shared with anyone, except as may rarely be required by law.
Help
If you need help with the reflector settings, options, subscribing, unsubscribing or other questions about the operation of reflector server, please contact Casey, KD0JXU or Tate, KA7O.
Do not conatct Tate, KA7O with questions about listings.
Disputes
All transactions are private business between the seller and the buyer.
Do not contact Casey, KD0JXU or Tate, KA7O with problems or questions about a transaction.
KD0JXU can not and will not arbitrate, negotiate or resolve any disputes or problems between buyers and sellers.
Thankfully there have been very few problems over the years and of those few, most have been solved in short time - with just a bit of effort by those involved.