KA7JUN - Josh
Jump to navigation
Jump to search
I CAN DO WHAT
So I am sitting at the computer looking at "Export" radios for my CB (11m)fetish at the time(I didn't know any better then). So most of the websites tell me that these are high power units only to be used by a licensed amateur operator. OK, I can do that. So I started reading a Tech study guide and find out that CARC is putting a class and test session on here in town. Well the class was on the second to last week and testing was the following week(16 Dec 08). So I walk into the testing and managed to get my Tech class,after turning a few eyeballs and hearing "who is that?" whispered a couple of times. Well that snowballed into radios and wanting to get on HF. So for Hamfest (23 May 09) I got my General Class privileges, along with being proud of my lovely wife getting her Tech. With my General privileges and a new found excitement CARC found a void in the Field Day planning that I filled in and ran with. Then with WA2SMS having to step down from his VP position I have the honor of being voted in and stepping up to fill the job. So needless to say it has been a busy first year in amateur radio for me, but worth every moment!
Current Happenings
So I got together the pennies and filled out my AFE and submitted it to my budget committee and was granted authorization to purchase my current station :). I am running a Kenwood TS-2000. It has a MFJ-989c Versa Tuner V behind it to tune my 43' 160-6m band vertical (MFJ-2990). I don't do a lot of phone but really enjoy playing with all the digital modes. For my mobile rigs I run Kenwood TM-V7As in both trucks. My handy lil portable is a Kenwood TH-22AT (Thanks KU7D!!). I can generally be reached on the local repeaters as I am home raising our twin girls and have a radio on almost all the time.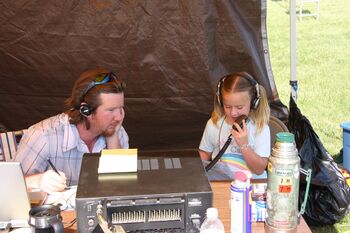 Devin has recently told me that she would like to start studying with me to get her Tech ticket so maybe I will get my Extra at the same time.
to be continued
This is my first go at making this page so its a work in progress!